FEATURED
TOP CATEGORIES
Discover our most popular product categories
FEATURED
TOP PRODUCTS
Selected from all over Greece and made with love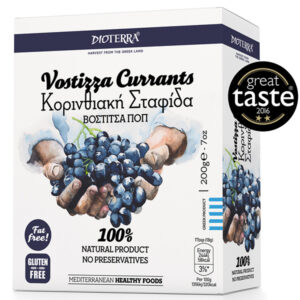 Origin: Aeghialeia - Peloponnese - Southern Greece DIOTERRA Corinthian Currants Vostizza PDO Weight 200gr DIOTERRA has been certified by Agrocert for the trading of PDO products and according to ISO 22000 for hygiene and food safety.
PRODUCTS FROM GREECE AND FROM ALL OVER THE WORLD
ABOUT GREATFOOD
Greece has also been identified with the Mediterranean diet. In the world literature, extensive references are made to the traditional diet of the Greeks and especially of the inhabitants of Crete. At greatfood you will find products from all over Greece but also many products from all over the world.
SUBSCRIBE TO OUR NEWSLETTER
GREATFOOD WRITES
OUR LATEST NEWS
We try and suggest places, recipes and ideas for a more delicious life!
Products you can find in March, April and May.
Most of us continue experiencing times and situations that are unprecedented, to say the least. The financial crisis leads us to re-evaluate our daily habits, and to scrutinize expenses that we took for granted until very recently. Does this bring us closer to a way of living gradually forgotten by modern habits? We had surely diverged from our predecessors way of life, but life, it seems, has ways of re-establishing equilibrium that are at least unexpected…
Chef Dimitris Chomatas and business-woman Maira Gomostioti first met at a reiki energy healers' conference. Their cooperation came about from a common wish: they both wanted to do something different, using their knowledge (creative cuisine and business management), to create a product radiating joy and bright positive energy compatible with reiki.
Products you can find in September, October & November.