Products you can find in March, April and May.
Lettuce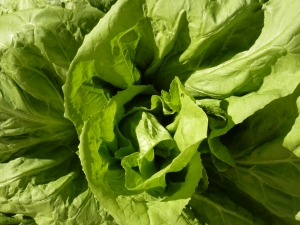 Lettuce is one of the incredible leafy vegetables packed with essential nutrients that benefit overall general health. Indeed, it is among the most popular greens, versatile, used in crunchy, green salads or in healthy vegetable sandwiches!
Lettuce leaves are one of the very low calorie green-vegetables. 100 g fresh greens provide just 15 calories. Nonetheless, they are very rich in many phyto-nutrients that have health promoting and disease prevention properties.
Vitamins in lettuce are plentiful. Fresh leaves are an excellent source of several Vitamin A and beta carotenes. Just 100 g of fresh, raw-lettuce provides 247% of daily vitamin A, and 4443 µg of beta-carotene (Carotenes convert to vitamin A in the body). These compounds have antioxidant properties. Vitamin A is required for maintaining healthy mucus membranes and skin, and is also essential for vision. Consumption of natural fruits and vegetables rich in flavonoids helps to protect the body from lung and oral cavity cancers.
It is a rich source of vitamin K. Vitamin K has a potential role in the bone metabolism where it thought to increase bone mass by promoting osteotrophic activity in the bone cells. It also has established role in Alzheimer's disease patients by limiting neuronal damage in the brain.
Fresh leaves contain good amounts folates and vitamin C. Folates require for DNA synthesis and therefore, vital in prevention of the neural tube defects in-utero fetus during pregnancy. Vitamin C is a powerful natural antioxidant; regular consumption of foods rich in vitamin C helps the body develop resistance against infectious agents and scavenge harmful, pro-inflammatory free radicals.
It also contains good amounts of minerals like iron, calcium, magnesium, and potassium, which are very essential for body metabolism. Potassium is an important component of cell and body fluids that helps controlling heart rate and blood pressure. Copper and iron are essential for red blood cell formation.
It is rich in B-complex group of vitamins like thiamin, vitamin B-6 (pyridoxine), riboflavins.
Regular inclusion of lettuce in salads is known to prevent osteoporosis, iron-deficiency anemia and believed to protect from cardiovascular diseases, ARMD, Alzheimer's disease and cancers.
Here are some surprising nutrition facts about this wonderful smoothie (and salad) green:
Protein. Believe it or not, romaine lettuce is 17% protein with 7.7 grams per head. It is also a complete protein! That means that it has all 8 essential amino acids, 9% RDA of some and up to 26% RDA of others.
Calcium. One head of romaine has 206mg of calcium (about 21% RDA). Blend it with calcium rich fruits like papaya and oranges and you'll get more calcium than a glass of milk!
Omega-3s. One head of romaine lettuce contains 44% RDA of Omega-3 essential fats. Forget the tainted fish oils, reach for some leafy greens instead!
More Vitamin C Than An Orange. One head of romaine contains 167% RDA of vitamin C while an average sized orange contains only 92%.
Iron. One head of romaine contains 6mg of iron, which ads a significant source of iron to the diets of vegetarians and vegans.
Lettuce is Rich in B-vitamins: Thiamine (B1) – 38% RDA, Riboflavin (B2) – 32% RDA, Niacin (B3) – 12% RDA, Pantothenic Acid (B5) – 18%, Pyridoxine (B6) – 36 %, Folate (B9) – 213%!
Water. One head of romaine provides 16% of your daily water needs with about 20 ounces of water per head!
Rich Source of vitamin A (as beta-carotene) and K. As with most leafy greens, romaine is super rich in beta-carotene with 1817% RDA per head and has 535% RDA of vitamin K.
Low Levels of Oxalic Acid. If you have problems with calcium oxalate kidney stones, romaine lettuce might be a good choice for leafy greens since it is very low in this anti-nutrient.
Mineral-Rich. Don't let the lighter color of romaine lettuce fool you. This not-so-dark leafy green is rich in minerals. One head contains copper (33% RDA), magnesium (22% RDA), manganese (42% RDA), phosphorus (27% RDA), potassium (33%), selenium (5% RDA) and zinc (13% RDA).
http://www.nutrition-and-you.com/lettuce.html
http://nutritiondata.self.com/facts/vegetables-and-vegetable-products/2476/2